€50,000 Blowout Special Poker Tournament
Look out for our new €50,000 Guaranteed Blowout Special tournament which will run on Sunday December 30th.
You can satellite your way in from just 11 cents, or pick up a free entry by winning one of our specially selected daily tournaments running throughout December. Check out the schedule for the special tournaments below.
| | | | |
| --- | --- | --- | --- |
| Day | Date | Tournament | Buy-in |
| Monday | 03/12/2018 | Daily Mosh Pit | € 22 |
| Tuesday | 04/12/2018 | Terminator (Super Bounty) | € 33 |
| Wednesday | 05/12/2018 | Daily Mini Mosh Pit | € 5.50 |
| Thursday | 06/12/2018 | The Most Interesting Tournament… | € 11 |
| Friday | 07/12/2018 | Deep Bankroll Builder | € 3.30 |
| Saturday | 08/12/2018 | Mosh Pit Lite | € 11 |
| Sunday | 09/12/2018 | Mount Olympus | € 110 |
| Monday | 10/12/2018 | Daily Mosh Pit | € 22 |
| Tuesday | 11/12/2018 | Terminator (Super Bounty) | € 33 |
| Wednesday | 12/12/2018 | Daily Mini Mosh Pit | € 5.50 |
| Thursday | 13/12/2018 | The Most Interesting Tournament… | € 11 |
| Friday | 14/12/2018 | Deep Bankroll Builder | € 3.30 |
| Saturday | 15/12/2018 | Mosh Pit Lite | € 11 |
| Sunday | 16/12/2018 | Mount Olympus | € 110 |
| Monday | 17/12/2018 | Daily Mosh Pit | € 22 |
| Tuesday | 18/12/2018 | Terminator (Super Bounty) | € 33 |
| Wednesday | 19/12/2018 | Daily Mini Mosh Pit | € 5.50 |
| Thursday | 20/12/2018 | The Most Interesting Tournament… | € 11 |
| Friday | 21/12/2018 | Deep Bankroll Builder | € 3.30 |
| Saturday | 22/12/2018 | Mosh Pit Lite | € 11 |
| Sunday | 23/12/2018 | Mount Olympus | € 110 |
| Monday | 24/12/2018 | Daily Mosh Pit | € 22 |
| Tuesday | 25/12/2018 | Terminator (Super Bounty) | € 33 |
| Wednesday | 26/12/2018 | Daily Mini Mosh Pit | € 5.50 |
| Thursday | 27/12/2018 | The Most Interesting Tournament… | € 11 |
| Friday | 28/12/2018 | Deep Bankroll Builder | € 3.30 |
| Saturday | 29/12/2018 | Mosh Pit Lite | € 11 |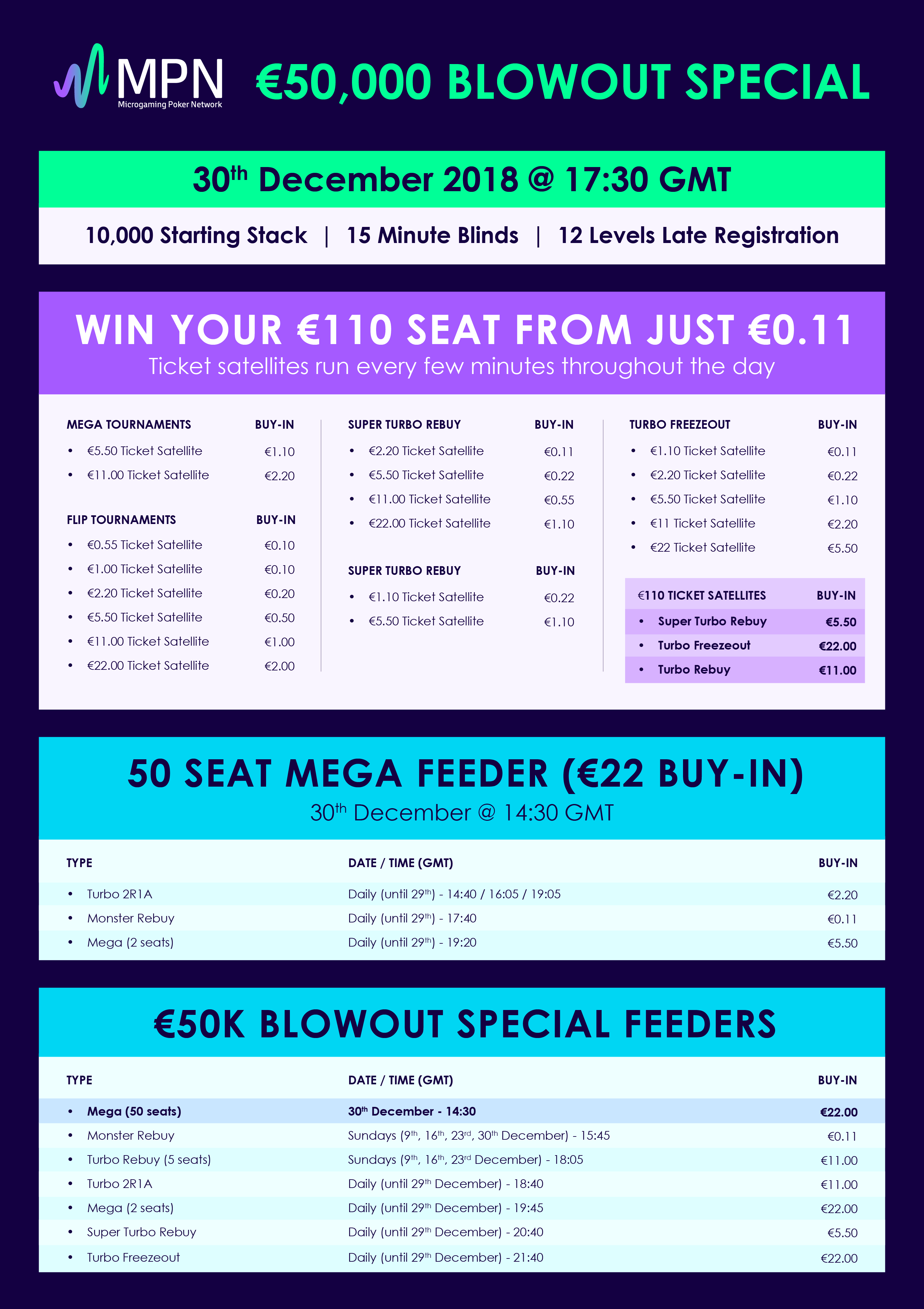 Terms and Conditions